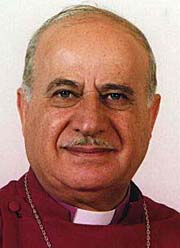 Attention : The Rt. Rev. Bishop Christopher Hill
From : Bishop Riah Abo El-Assal
Dear Bishop Christopher,
Salaam and grace from our Lord Jesus Christ, and every blessing for a joyous Christmas and a peaceful New Year.
I write to you today in regard to the unwarranted and groundless attacks on the good name of one of your committed and faithful priests, the Rev. Dr. Stephen Sizer, who has powerfully and consistently raised awareness of the plight of our fellow Palestinian and Israeli brothers and sisters, as have many others. He continues to remind us of our Christian duty, to uphold Human Rights, a vital step if, Israel and Palestine are to take committed steps towards a lasting peace.
In his opinion, and I share this with him,
that a road map of compassion is sorely needed by both sides to end decade long conflict through the fulcrum of peaceful negotiations.
It is right for democratic and public debate to bring to light and criticize Israel's politics which daily violate the basic rights of all Palestinians in the Occupied Territories. It is equally right to speak of Palestinian breaches of international law.
I have known Stephen for over thirty years. I know him as a man of integrity and forthright views with the courage to express those views. He has always been measured , and his message is, and has been, one of Christian faith and the love of truth. His books and his articles are suffused
with objective discipline. There is nothing in them, or him, that could be remotely construed as anti-Jewish, anti-Jew, anti-Semite or even anti Israel as a state.
Importantly, supporting a Pro-Palestinian right of self determination and or an independent state in
accordance with UN Resolutions must not be viewed as being anti-Jewish. This, his view, is also mine.
I have experienced first-hand Israel's obdurate politics, when I received a four year travel ban when suggesting that cultural exchange, dialogue in music, could be, another approach to peace. There was no charge.. Even when I put to Israel that I be tried in court, there was no charge, because, there was no truth in the allegation that I represented a security risk for advocating peaceful exchange. Eventually the ban was lifted and I continued to spread the message of love and reconciliation at home and abroad.
Therefore, if one speaks out and persistently, it is historically clear, that one will be accused of being anti-Semitic and anti-Israel. Stephen has mentioned this in his writings Zion's Christian Soldiers.
Stephen writes: "fear of being accused of anti-Semitism for challenging the Zionist agenda is enough to keep many evangelicals under their beds. In my view, and that of an increasing number of other evangelicals, it is time to speak out because Christian Zionism has become a formidable and dangerous movement. By portraying the modern state of Israel as God's chosen people on earth, the role of the church has been reduced in the eyes of many to providing biblical justification for Israel's colonization of Palestine. Those who oppose her are demonized."
Further Stephen is compassionately aware of Israel, her citizens and the mandate of the church : "It is not an understatement to say that what is at
stake is our understanding of the Gospel, the centrality of the Cross, the role of the Church and the nature of our missionary mandate, not least, to the beloved Jewish people". These are not the words of an anti-Semite but the thoughts of a man with genuine concerns for the Church and the citizens of both Israel and Palestine.
Finally, Stephen is a man to be listened to. He is a man of God, in the footsteps of the old prophets, and should be valued by the Church for he has taken up the missionary mandate of the Church, bringing a rare clarity, sincerity of spirit, and persuasive intellect to what has proven thus far, to be an intractable problem, even for the best intentioned, namely a joyful
and long awaited peace between Israel and Palestine .
Dear Bishop, I trust in your wisdom. Know this comes with my prayers,
In Christ,
+Riah
13th Anglican Bishop of Jerusalem
Nazaret-Illit 17110, Israel
Antisemitic? We don't think so either


Tanas Alqassis
, Chairman, Arab Vision International
Revd Andrew Ashdown
, Enham Team Rector and Trustee of Embrace the Middle East
Right Revd Riah Abo El Assal
, 13th Anglican Bishop of Jerusalem
Fr Robert Assaly
, Priest in the Anglican Diocese of Ottawa
Dr Bishara Awad
, Founder and President Emeritus, Bethlehem Bible College

Dr Mark Braverman,
Author of the Fatal Embrace
Canon Dr Mike Butterworth
, former Academic Registrar, Oak Hill College

David Carter
, Director, Middle East Evangelical Concern
Anne Clayton
, Coordinator, Friends of Sabeel UK
Rabbi Professor Dan Cohn-Sherbok
, Professor Emeritus of Judaism, University of Wales
Michael Connarty MP
, Council of Europe Parliamentary Assembly
Jeremy Corbyn MP
, Islington North
Katherine Cunningham
, Moderator, IPMN, Presbyterian Church USA
Dr Martin Davie
, Theological Advisor to the House of Bishops
Professor Philip Davies
, Department of Biblical Studies, University of Sheffield
Professor Scott Elias
, Royal Holloway, University of London
Adam Estle
, Executive Director of Evangelicals for Middle East Understanding
Right Revd John Gladwin
, former Bishop of Guildford and Chairman of Citizens Advice
Anthony Gratrex
, member of Christ Church, Virginia Water
Tony Greenstein
, Founding Member, Palestine Solidarity Campaign
Professor Mary Grey
, Emeritus Professor of Theology, University of Wales
Dr Jeff Halper
, Co-founder of the Israeli Committee Against House Demolitions
Hank Hanegraaff
, President, Christian Research Institute
Revd Phil Hill
, Nazareth Evangelical Theological Seminary
Canon Garth Hewitt
, Founder, Amos Trust
Lawrence Jones
, former member of Christ Church, Virginia Water
Dr Ghada Karmi
, Fellow of the Institute of Arab and Islamic Studies, Exeter University
Manfred W. Kohl
, Ambassador, Overseas Council
Dr Attorney Jonathan Kuttab
, Chairman of the Board, Bethlehem Bible College
Venerable Michael Lawson
, Chairman, Church of England Evangelical Council
Anne Martin
, member of Christ Church, Virginia Water
Jeremy Moodey
, Chief Executive, Embrace the Middle East
Craig Murray
, former British Ambassador to Uzbekistan
Diana Neslen
, Ex-officio, Jews for Justice for Palestinians
Professor Ilan Pappe
, Director, European Centre for Palestine Studies, Exeter University
Revd Chris Rose
, Director of the Amos Trust
Canon John Salter
, Vice Chair, Garden Tomb Association
Revd Jack Sara
, President, Bethlehem Bible College
Rabbi Dr Stanley Howard Schwartz
, Hospice Chaplain and retired Army Chaplain
David Toorawa
, Chair, Friends of Sabeel UK
Revd Dr Donald Wagner
, National Director, Friends of Sabeel North America
Revd John Woodger
, Retired vicar, St Mary's Watford

News Sources:
Church of England Newspaper:
Sizer complaint
Church Times:
Vicar is not Anti-Semitic
Church Times:
Rabbi Clears Vicar of Anti-Semitism
Jewish Chronicle:
Bishop: anti-Zionist vicar 'no antisemite
Jewish Chronicle:
Sizer: I am ready to meet the Board of Deputies any time
Jews for Justice for Palestinians
Digging for dirt: the campaign against Stephen Sizer
Phil Groom (member of CCJ):
Jeremiah's Underpants
Phil Groom (member of CCJ):
Dr Sizer is cleared

Commendations
"He has recently explained, however, that he 'categorically reject[s] any position that threatens the territorial integrity of Israel as a sovereign nation…. Stephen Sizer's work has the merit of clearly setting out the issues that divide the two sides, and furthermore doing so without the rancour or sheer nastiness of tone typical of the polemics in the conflict." (p.571).
Anthony Julius
, Chairman of the London Consortium and a Visiting Professor at Birbeck College, University of London. His book Trials of the Diaspora, is a magisterial 800 page examination of the history of Anti-Semitism in England.
"I am glad to commend Stephen Sizer's ground-breaking critique of Christian Zionism. His comprehensive overview of its roots, its theological basis and its political consequences is very timely. I myself believe that Zionism, both political and Christian, is incompatible with biblical faith. Stephen's book has helped to reinforce this conviction."
John Stott,
(deceased) former Rector Emeritus, All Soul's, Langham Place, London, the principal framer of the Lausanne Covenant (1974) and founder of the Langham Partnership International.
"This is a very fine and important book. All Christians who believe that Jesus favoured peacemakers, should read it and realise what terrible harm is being done in the name of Christianity. And all who are concerned about the Israeli/Palestinian conflict should read it to understand how Christian Zionism disables the US as fair minded mediator. European foreign policy thinkers should read it,because this distortion of US political space, puts a greater responsibility on European governments to stand up for justice and international law"
Clare Short
, former British Secretary of State for International Development
More than sixty bishops, clergy, politicians and academics have endorsed my book
Christian Zionism
and
Zion's Christian Soldiers